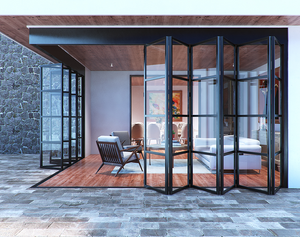 Bi-fold aluminum doors are the epitome of modern design and functionality, blending a sleek, contemporary look with a minimalist footprint. Available in both a 3-panel design, measuring 90 inches in width and 81 inches in height, and a larger 4-panel option at 104 inches wide by 84 inches tall, these doors are engineered for space-saving efficiency without sacrificing aesthetic appeal. The streamlined aluminum frames support expansive panes of glass, inviting a light-filled ambience into any room and fostering a seamless indoor-outdoor synergy.
The functionality of these doors goes beyond their stylish appearance. With a versatile and accessible folding mechanism, they allow for a full, unobstructed opening to your outdoor space, creating a panoramic view that can be tailored to fit any living space. Unlike sliding patio doors, bi-fold doors open completely, offering a transformative experience for those who appreciate an expansive connection to their exterior environment.
Durability meets design with our bi-fold aluminum doors – they're not just a stylish addition to your home, but a functional investment. They stand as a testament to modern efficiency, easily operated to reveal the full potential of your living area while offering an undeniable contemporary edge. Whether you're upgrading your home for style or functionality, these doors promise a stylish, light-enhancing solution that will redefine your living space.