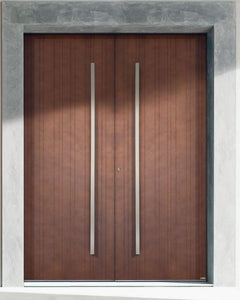 Step into a world of timeless elegance with our Double Iron Doors featuring sleek horizontal lines. These doors not only serve as a grand entrance to your space but also blend classic sophistication with modern design. Available in two commanding sizes, 61" by 81" and 61" by 96", they present a stylish and expansive entryway tailored to your architectural needs. With color options in both deep, luxurious black and rich, inviting copper, customization is at your fingertips.
These doors are the epitome of functional luxury, offering unparalleled security without compromising on the airy, open feeling that is often sought after in both residential and commercial spaces. Their versatility shines through as they provide the convenience of privacy while still fostering an indoor-outdoor connection, perfect for those who appreciate a seamless transition from home to nature.
Moreover, our Double Iron Doors are engineered to be as quiet as they are secure, ensuring a tranquil environment behind their classic allure. As practical as they are sophisticated, they create an entry that is as conveniently functional as it is architecturally significant, setting the tone for a stylish and secure welcome to any establishment.