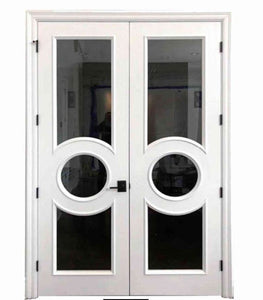 Step into a realm of elegance with our Art Deco Double Doors, where sophistication meets functionality in two majestic sizes: 61" by 81" and 72" by 81". These grand portals are not just entryways but an invitation to timeless beauty, tailored to fit both intimate and expansive spaces. Choose between the classic allure of black or the pristine charm of white to complement your architectural vision.
Designed for those who seek the balance between luxury and practicality, these doors open up to an airy, versatile experience. Their inviting aesthetic enhances views while ensuring your space remains secure and private. The seamless indoor-outdoor transition they provide is not just convenient but also amplifies the stylish statement of your abode.
Every detail of the Art Deco Double Doors echoes a customizable, classic design that's inherently quiet yet functional. Whether you're looking to create an impressive frontage or a serene interior gateway, these doors promise to augment your living space with an architectural grace that stands the test of time.